14 Valuable Time Management Ideas for Homeschool Moms
This post may contain affiliate links, which means I'll receive a commission if you purchase through my links (at no extra cost to you). Please see my disclosure for more information.
Homeschool moms everywhere face the same time management challenges – in a single 24-hour period, we're expected to juggle school, housework, cooking, parenting, being a wife, and possibly even a job. And let's not forget to squeeze some personal time in there too!
When I set out to start a blog, I didn't intend to blog about homeschooling at all. But you know what? I'm a homeschool mom, and this role takes up a significant chunk of my life, so I started thinking that maybe I should. After all, I've been homeschooling since the beginning, and my kids are now in 2nd and 5th grades. And I KNOW there are some just-getting-started homeschool moms who are overwhelmed, as well as some upper elementary and middle school moms who need some refreshers and guidance. So here I am, putting up a homeschool post for the first time.
When I first started homeschooling, my kids were tiny. It didn't take a ton of time, and it mostly consisted of reading aloud for a while, followed by an easy craft of some sort. Time management didn't even cross my mind because "school" took about an hour or two a day, depending on how involved the craft was and how many books the kids wanted to read.
Along the way, as homeschooling became more complex and started to take a bigger chunk of my day (like when I started to teach actual subjects separately to my older twins and my younger twins), I really started to struggle. I could do the schooling, but the house was a complete disaster. Or I could keep the house clean-ish, but couldn't get through a full day of school. And if there were errands to run, neither school nor cleaning was getting done.
I just couldn't find a way to fit everything in. Good time management for homeschoolers is a necessity, though, so I needed to learn some time management skills, STAT.
Eventually, after reading a million blog posts and a handful of time management books, I implemented some strategies that improved my efficiency and saved my days, and I'm hoping that they'll do the same for you.
What is Time Management for Homeschool Moms?
Time management, simply put, is using the hours in your days and weeks as efficiently as possible so that you aren't constantly feeling like you're drowning. It requires some advance planning, which makes the days run more smoothly and our lives easier.
Time management for homeschool moms is similar to regular old time management, but the constraints on our time are very different from moms with kids in a more traditional school. We're literally with our children 24/7. Most of us chose this life and wouldn't change it for anything, but that doesn't make it any easier.
With a busy schedule that's packed completely full with school, activities, and more, effective time management is the only way to get everything done (and by "everything," I mean most of the things – doing it ALL is an impossible task).
(I'm not trying to downplay the time struggles of working moms – I seriously don't know how you all do it. I work one full day a week, and it's SO hard to come home after a long day and still have to cook dinner and clean up! And I'm also not trying to downplay the struggles of stay-at-home moms whose kiddos go to school 5 days a week. Each type of mom and each family has their own particular struggles with time constraints.)
The tips below aren't necessarily unique or innovative. By having them all in one handy-dandy list, though, my hope is that you'll be able to take some of them and learn to work smarter, not harder, and you'll start feeling like you're in control of your days, rather than having your days control you.
14 Valuable Time Management Ideas for Homeschool Moms
#1 – Focus on Your Priorities
You can't do everything at all times. I try (and fail) to get everything done, and, a lot of times, I take on more than I should, but when I remember to focus on my actual priorities each day, I'm able to get the important things done and stay out of the overwhelm zone.
The kids are most important. Always. This means that school comes first on our school days. (It can also mean scrapping the schoolwork completely when we're having a rough day.) It means squeezing in our weekly Friday Friend Day, even when I have a thousand other tasks on my list that need to get done.
Another one of my priorities is making sure that the house is reasonable when my husband gets home from work. By "reasonable," I don't even necessarily mean "clean" – in my house, it means that the dishes are done, dinner has been started (or at least decided on), and the toys have mostly been picked up.
I specifically set aside about a half hour before school and 45 minutes or so after school to make sure this gets done – I'm not good at keeping up throughout the day, and I prefer to block my time to do a couple of big cleanups instead of spending 10 minutes here and 15 minutes there.
Your daily semi-non-negotiable priorities may look different than mine, and that's okay. What's important is that you determine what they are and stick with them.
#2 – Create a "Schedule"
Note the quotation marks – this is not a typical schedule. It's more of a routine. I'm not going to tell you that math needs to be done from 9:00 to 9:45, then literature from 9:50 to 10:35, and so on. Our (my) schedule looks like this:
6:00-7:00 a.m. – Me Time (coffee, blog, work, etc.)
7:30-8:30 a.m. – Mom Mode (breakfast and morning chores)
8:45 a.m.-2:00 p.m. – School (lunch falls in here too)
2:00-2:45 p.m. – Mom Mode (chores for the kids and for myself)
3:00-5:00 p.m. – Work / TV time (I work, kids play independently or watch a movie)
5:00-6:30 p.m. – Dinner (prep and actual eating)
6:30 p.m. – Family time (goes until bedtime)
This is our schedule for 3 days per week (we school on a 3-day schedule – more on that later). It is very flexible, and it provides a flow for our days – the times are estimates, and my daily goal is to stay pretty close.
Note that there are some buffers in there in case we need extra time to do something. I also use these buffers as breaks for myself when possible.
On our non-school days, that school time slot is spent field tripping or going to our electives classes.
Your routine may look much different, and that's okay. What's important for homeschooling in particular is that your kids know when they're expected to get their work done and when it's okay to play or ask for screens.
#3 – Get Organized
Take time weekly to plan, prepare, and organize supplies for the week (or weeks) ahead. This saves time throughout the week because you're not wasting time looking for something that isn't where it belongs.
Every Sunday, I have a planning meeting with myself. I do the homeschool planning for the week ahead, and I do my personal planning. It's a relaxing time for me, usually involving a quiet office and some coffee, tea, or wine, depending on the time of day 🙂
For school, you can use an online program (I hear great things about Homeschool Planet!), a homeschool planner, or a plain old spiral notebook (my preferred method). You can plan weekly, every few weeks, or monthly. Regardless of your method, you need to plan.
I use a page in my notebook for my 5th graders and a page for my 2nd graders, and I write out what we plan to accomplish for the week. When that's done, I make a schedule for my 5th graders. This way they know exactly what's expected of them for the week, and they can get started on some independent work while I work with my second graders.
(For more on school planning, see the next tip!)
For personal planning, I love this one and this one. I'm able to write out everything that needs to be done for the week, and I block out the times that we'll be out of the house so that they're easy to see.
When my weekly plan is on paper (and out of my head), everything just feels calmer and less stressful.
#4 – Give Your Kids Independent Work
As soon as you possibly can, like as soon as your kids are able to read on their own, give them work that they can get started on their own.
I use a weekly schedule for my older twins. It includes EVERYTHING that they'll need to get done, including work that requires my assistance. They're able to see what they need to accomplish, and on school days, they take that schedule and get started with the subjects and workbooks that they can do on their own.
(My littles aren't quite ready for the master checklist, but they are able to pull out a couple of their workbooks and get started if I'm not ready when they are.)
This system allows me to get my littles started on their school day or finish the breakfast cleanup while my bigger kids (who have much more to do than the littles) can get started on their own.
This is such an important time management tip – not only will it help you out, but it also teaches your kids time management techniques and gives them the opportunity to learn some self-starting skills as well.
They're even able to bust their butts on the first two school days of the week and have a shortened day on the third day if they're willing to work hard enough 🙂
FREEBIE ALERT! Check out the weekly schedule I created for my kids. I've made 3-day, 4-day, and 5-day versions, and they're editable. Plug in your kids' names and the subjects you do. I print them out at this point and write in the assignments by hand, but you could certainly add text boxes and type and print every week!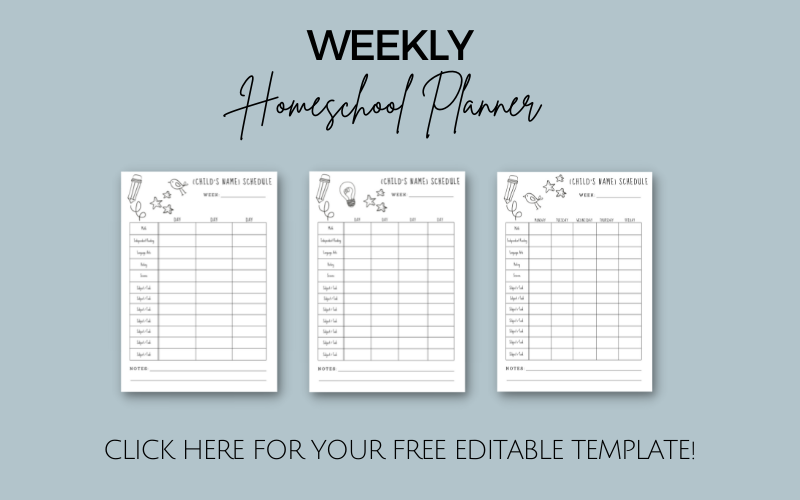 #5 – Limit Electronics
Or, if you're not attached to your phone (like I am), think about where you waste the most time, and limit that. Between social media, email, and texting, your phone is one of the biggest time wasters EVER.
The less time you spend on these things, the more time you have to stay productive with school and housework.
Have a set time a couple times a day to check your feeds and email. Use a timer if necessary.
Most of us limit our kids' time on electronics, so it makes sense that we need to do it for ourselves as well. Limiting our screen time shows our kids by example how to exercise self-control in this area – and is one of the simplest (although, admittedly, not easiest) ways to better manage our time.
#6 – Stay Home…
With homeschool comes a ton of flexibility. While you *can* technically do school anywhere, trips take a large chunk out of your day. If you're the type of person who feels like they need to get out of the house every single day, try staying home just one day a week at first.
This semester, we stay home on Mondays and Thursdays. Tuesdays are our electives day at my homeschool partnership – it's my work day, so we're gone all day. Wednesdays are library and horseback riding day, and Fridays we get outside with friends for hikes or playground time.
To be honest, I still think we're out of the house too much 😛 I'd prefer to be home 3 days per week, but the kids love their classes, I love my job, and we all love our friends.
Staying home is especially important when you have babies and toddlers. Going out too much can upset their routine, which makes it difficult to get the schooling done. Sometimes those naps are the only time you get during the day to focus and be productive!
Put very simply, you can't homeschool without the home!
#7 – …But Get Out of the House Sometimes
We all need time with other people. Whether it's friends, coworkers, or the Target cashier, it's nice to talk to other adults.
But that's not what I'm talking about here. For the purposes of this time management tip, I'm talking about time with friends or peers that is specifically for the purpose of connecting, being social, and forming true friendships.
For kids, it's important for them to be around non-sibling kids sometimes – it opens them up to different perspectives and lifestyles, which influences their conflict management, cognitive abilities, and other interpersonal skills.
For moms, it's also important – you need those friendships for support and for fun. It's beneficial to engage with like-minded families. You can get advice on homeschool struggles, share your schooling wins, and give and get encouragement from women who are in a similar situation to your own.
I'm an introverted homebody, so I get that this is challenging. I've heard that some homeschool moms don't even want to put out the effort – they feel like they don't have enough time or energy or that it's a huge waste of the time and energy that they do have. But I promise you that making the effort to find friends is so very worth it. You and your kids need the relationships – having a tribe is the ONLY way to navigate this homeschool life.
But how does this tie into time management? Social interactions can be refreshing and energizing (yes, even for introverts!), giving you that boost that you need to get your stuff done when you're back home. So put yourself out there and find a fairly consistent group that meets weekly, biweekly, or even monthly. Get your kids around other kids, and get your own cup filled through adult conversation!
#8 – Meal Plan
In my opinion, meal planning is important for everyone, not just homeschool moms. Dinner can feel overwhelming sometimes – the day has gotten away from you and you're starting to get tired, but there's still so much on your to-do list left undone… And now you have to figure out what to cook for dinner.
Meal planning takes out the "figuring out" part. Yes, you'll still have to cook, but if you know what you're cooking and have the ingredients on hand, there's no complicated decisions to be made (What should I make? Do I have all of the ingredients? Is there time to run to the store?).
I plan weekly, but you could also plan every two weeks or every month. I have a list of our favorite meals to choose from, but I also choose one or two new recipes to try every week, because I get really bored with cooking if I'm not trying new things.
If you don't already have an Instant Pot or a Crock-Pot, consider buying one – they save a ton of time in the kitchen! I'm also a huge fan of freezer meals – I can set aside a couple of hours on the weekend to prep, then I have several meals to just pull out of the freezer when I need them. The only downside is that I have to remember to actually pull them out of the freezer 😛
Planning dinners ahead of time will most definitely save you time in your day. But, if you're feeling a little "extra," you could take it a step further and plan out your breakfasts, lunches, and snacks too!
#9 – Consider Adjusting Your Weekly / Yearly Schedule
If you're feeling like you can't get a grip on your time management, make a change to your homeschool schedule. We've settled into a 3-day a week, year-round schedule.
A shorter school week makes those school days feel less stressful because you know you have an entire day set aside to catch up on housework, errands, etc.
Because we school year-round, we're able to only work on our core schoolwork 3 days per week. The other days are for electives and friends. And we don't do any work on the weekends, other than reading aloud as a family.
Schooling year-round allows us to take days off whenever we want or need. As an example, this week, my workload is heavy and I have Shutterfly calendars to make all of the grandparents as Christmas gifts (which are super time-consuming)! We took a day completely off, and we only did super light work another day. But we don't have to worry about falling behind because we have all year to work!
Also, we live in Michigan. So when spring rolls around and the weather starts to warm up, this super flexible, laid-back schedule allows us to drop everything and go play outside with friends.
If 3 days feels like it'll never work, try a 4-day school week! That extra weekday is amazing for cleaning house or getting those errands out of the way. Even if you do field trips on that one day, those often don't take an entire day, which leaves a bit of extra time for chores and errands.
Or even do 5 days, but make them shorter and have your afternoons free for fun (or chores and errands)!
#10 – Delegate
You are not and should not be responsible for every single household task, even if you are the stay-at-home parent. My husband does quite a bit around the house, and the kids have things that they need to get done too. It takes more than one person to keep a household running smoothly.
My kids (11 and 8 years old) are responsible for all of the picking up of toys and other junk that they leave lying around. They're also expected to keep their rooms reasonable, put away their laundry, and unload the dishwasher. It's not much, and I know they could do more, but it's still a time-saver for me.
Beyond household chores, see if you can delegate some of the school responsibilities. One of my friends has her dad over once a week, and he takes over the math and science for the day. Some families have dad handle the read-alouds every night before bed. You can hire a tutor or have the kids take a class on Outschool. You can put them in electives through the school system in some states (this is what we do – I'm not at all interested in teaching art, for example, but my kids love it!).
#11 – Take Care of Yourself
Managing your time and being productive is a whole lot easier if you're taking care of your body. If you're skipping meals and staying up too late, you're never going to perform at your best. You'll be exhausted and sluggish, which will cause even the most basic of tasks to take longer than it should.
Prioritizing your needs (sleep, water, healthy food, and exercise) is so important for boosting your mood and energy, which helps you get more done in less time.
It really is as simple as that.
#12 – Be Flexible
Are you pregnant or nursing? Do you have a toddler who gets into everything? Are you packing up your house to move? These are your seasons of life, and you should allow yourself some flexibility if you're in a crazy season.
Set expectations based on the needs of your family at the current time. You can change curriculum to something a little more independent. You can slow down on the outside activities. Or you can simply take some time off to regroup, then slowly start back up when you're feeling ready.
I'm done having babies, and we just moved and aren't planning to move again anytime soon. I don't anticipate any major life changes. But that doesn't mean I don't have to practice flexibility in my own house.
When I start to feel overwhelmed or like I'm heading for burnout territory, I give my kids the day off. Sometimes all it takes is a day to "reset" and spend some time catching up on housework and my job for me to feel more on top of things, and that's okay.
When I'm (sort of) caught up, I'm able to regroup to manage my time more efficiently.
Give yourself some homeschool grace if the rest of your life is a little more chaotic than usual.
#13 – Keep Moving
In order to manage your time and stay productive, it's important to stay busy. And by "busy," I mean that you need to stay intentional throughout the day. Momentum is a powerful tool.
You'll be able to relax in the evenings and sleep better at night if you know that you had a productive day full of accomplishments (even if you didn't cross off EVERYTHING on your to-do list).
Refer to your to-do list often throughout the day. When you finish one thing on your list, try to be quick about figuring out what's next so you don't lose momentum. If I take too long to decide what's next, that's when I pick up my phone or sit on the couch and struggle to get back up.
No need for perfection – don't stress if you don't get everything done. Just do your best to keep moving from task to task all day long, taking scheduled, time-limited breaks periodically.
Regarding school – if you're missing one ingredient for the science experiment, move on to math. You can always double up on experiments next week. If you run out of glue for the collages you'd planned, pull out the paint instead – the kids won't care.
Don't wait around for the "perfect" time to do something. Don't get hung up on over-analysis. Just. keep. moving.
#14 – Understand that You Can't Do it All
You just can't. Nobody gets it ALL done ALL the time. I haven't figured out a way to cram 29 hours into a 24-hour day – have you? Stop trying. Time management and productivity mean being realistic. There are always going to be days when you leave a pile of dirty dishes in the sink or serve cereal for dinner, because some days are just like that.
As homeschool moms, we often worry that we aren't doing enough, but in reality, we're usually trying to do too much. Don't try to teach 8 different subjects to 4 different kids. Don't teach your children from 7 a.m. to 5 p.m. without breaks. Don't expect your house to be immaculate – your kids are home all day long!
Be realistic with your expectations. Know what your priorities are, and let go of the things that don't matter as much.
Time Management Resources
Scheduling Freebie
Get the weekly school schedule I created and use for my kids! It's an editable Canva template that comes in 3-day, 4-day, and 5-day versions. Just add your kids names, subjects, and assignments and go!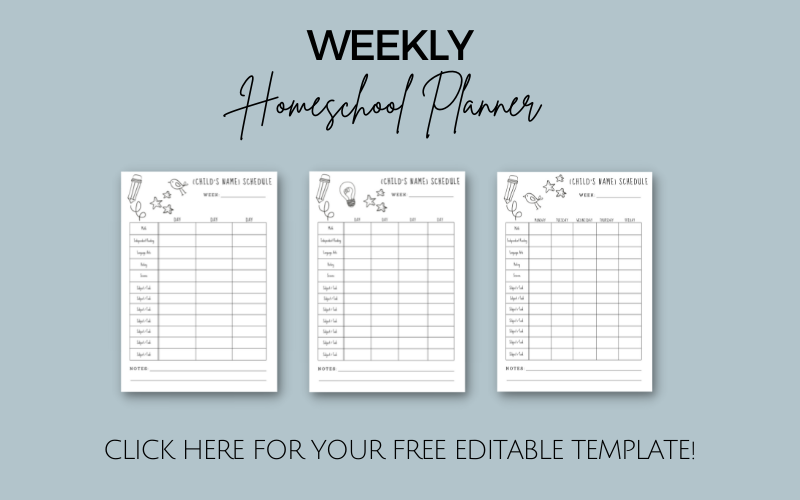 Book – The Unhurried Homeschooler
The Unhurried Homeschooler, by Durenda Wilson, isn't necessarily a time management book, but I'm recommending it here because it will validate the fact that you ARE doing enough with your kids.
The author's words made me feel so encouraged about how my family's homeschool works.
Even when you feel like you're totally screwing up your kids or that too much of your day is spent doing non-school things, like cooking, cleaning, or running errands, this tiny little book will instantly reassure you that your kids will be fine. And so will you.
Book – 168 Hours: You Have More Time Than You Think
There's a book out there called 168 Hours: You Have More Time Than You Think, by Laura Vanderkam. The author reminds us to think of our time in terms of an entire week, not just in 24-days. In the 168 hours of the week, you subtract time spent sleeping, working (if you have a job or business), schooling, cooking, and so on. And then, when all of your "jobs" are taken out, the concept is that you'll find that you're actually left with plenty of time per week to do special projects or relax.
The book is amazing, but if you're short on time (Ha! That's funny, right?!), this blog post breaks it down really well and will help get you started on this mindset shift.
Ultimately, what I'm trying to say (nowhere near as eloquently as the blog post linked above) is that you really do have quite a bit of time if you learn to manage it well. My hope is that the tips I've shared will help!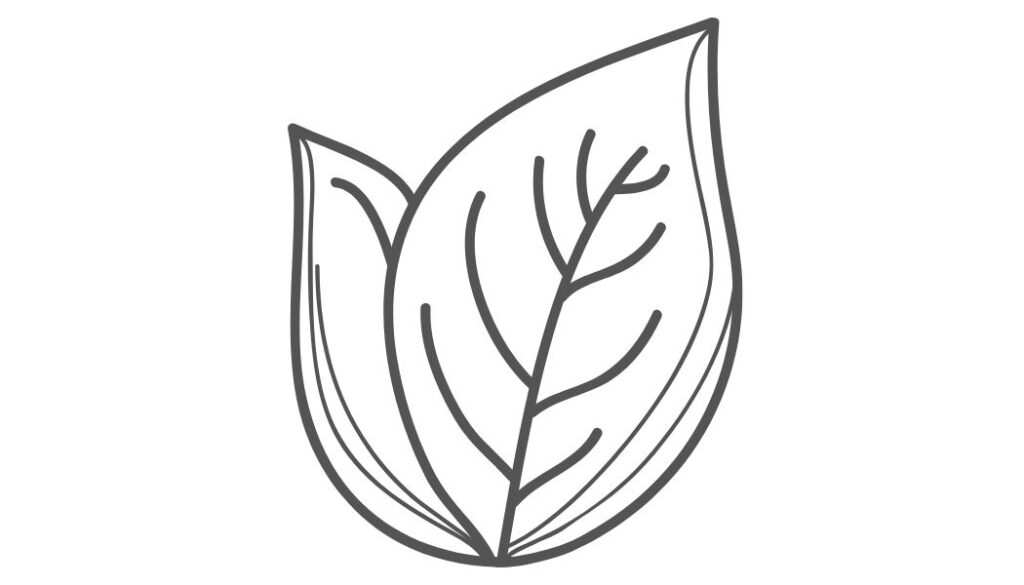 I'm pretty sure that every mom out there struggles with fitting it all in. Time management is typically an area that we could all improve in. However, time management is a different beast when it comes to homeschooling. There's math to be done, piano lessons to attend, a house to keep clean, meals to plan, fights to break up… (No? Just me?)
Homeschooling is a beautiful gift, but it's a gift that takes up a lot of time. It's my hope that the tips in this list can help you keep it a bit simpler so that you and your kids can enjoy your time together.
What is your biggest time management struggle when it comes to homeschooling? Did I miss any of your favorite tips? Let me know in the comments!